EB300P-2S
ONE CLAMP PUR PERFECT BINDER

EB300P-2S is a professional one clamp perfect binder with double glue system.
Extremely compact includes a unique PUR glue extrusion system with no need for dry air or compressor for anhydrous air, avoiding any contact with the air that may give rise to glue reticulation processes.
Ideal for small and medium productions, it guarantees high product quality in a short time with low production costs.
EUROBIND EB300P-2S is the first Perfect Binder with these features to use a combination system with two different types of glue, usually used by big brands equipments.
Spine in PUR glue
Sides in Hotmelt glue.
Spine gluing
The spine gluing system is made with a PUR glue spreader head from a gear pump with variable speed and pressure. The fuser is equipped with a tank where to insert a 2Kg PUR cartridge. integrates its packaging with no need to remove any wrap, and attached to the spreader head with a heated tube.
In our system, only the needed amount of glue is heated, in other systems, every time the machine is switched on, it is always fused the whole quantity of glue.
The system, fully integrated in the machine, allows you to adjust the pump pressure and flow to ensure homogeneous and constant coverage of the spine of the book block, automatically, depending on its thickness.
The operator has only to set the thickness of the book on the touch screen, that's all.
Side gluing
The side gluing is applied to the sides of the bookblocks by means of two discs immersed in Hot-melt glue, contained in a tank separated by the PUR glue filler head.
This is to ensure a greater seal in the form of the book block for handling it much sooner than a fully- PUR glued bookblock.
Cleaning
A quick and innovative automatic cleaning system of the spreading head, made by our design, simple and fast and with a reduced cleaner consumption is planned for each end of the work cycle . This ensures a quick resumption of glue-free glue work clutter and makes the operator's work simpler and more practical than other systems.
Production Speed:
300 mechanical cycles/hour
Book support table
Support for the bookblock adjustable: in height 0 – 2mm
Jogging: Motorized Jogging Sheet System (Optional)
Motorized sheet smoothing system
Height-adjustable leaf plate
Mechanical milling tilt away
Additional notchings
Automatic height-adjustable press unit
Automatic height-adjustable of the cover
Kit for support plane of the cover
Air compressor
Hotmelt smoke/fume extractor
Pre-ignition (to reduce waiting time)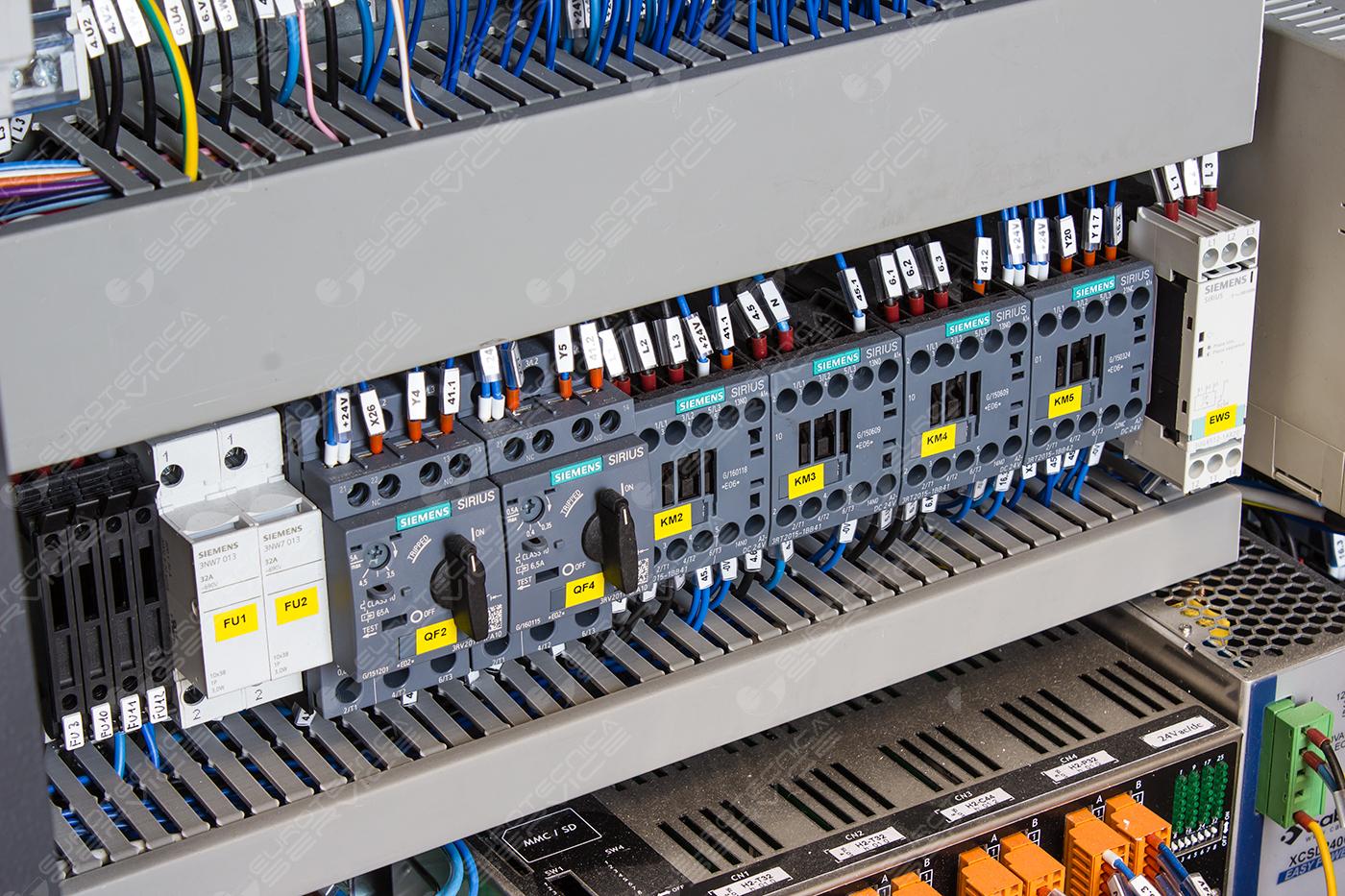 Electrical specs : 400V ± 5%, 50Hz, 3PH+N + PE / 13A 6,5 KW
Compressed air, static working pressure: 7 bar
Diameter of the compressed air inlet: Ø 8 mm –
Consuption : 6 Nl/min
The compressed air supplied to the brochure should be as dry as possible and free from oil and impurities.
The spine of the book is glued with PUR glue spreader head from an hermetic closed tank, with no fumes/smokes, with an integrated start-and-stop system.
The side gluing is applied by two discs immersed in Hot-melt glue, contained in a separated tank.
Lenght b : max. 440 mm – 17.32 inch
Lenght b : min. 120 mm – 4.72 inch
Height h : max. standard 320 – 12.59 inch
Height h : min. 120 mm – 4.72 inch
Thickness d : max. 50 mm – 1.97 inch
Thickness d : min. 2 mm – 0.08 inch
Lenght Z : max. standard 690 mm – 27.16 inch
Lenght Z : min. 290 mm – 11.42 inch
Height : max. 440 mm – 17.32 inch
Height : min. 140 mm – 5.51 inch
WEIGHT AND DIMENSION OF THE MACHINE
Lenght : 1680 mm – 66.14 inch
Width : 670 mm – 26.38 inch
Height : 1400 mm – 55.12 inch
Weight : c.a. 300 Kg – 661.38 lb